Prof. Dr. Christian Rosenmund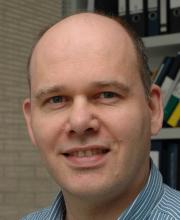 Charite - Universitätsmedizin Berlin
Department of Neurophysiology, NeuroCure
Charitéplatz 1
10117 Berlin
Phone: +49 (0)30 450 539-061
Fax: +49 (0)30 450 539-920
E-mail: christian.rosenmund@charite.de
Research Area
Neurobiology, Molecular Physiology of the Synapse
Position and Status
Professor of Neurobiology (W3)
Scholarships and awards
2010 - 2015    European Research Council Advanced Grant
2007 - 2010    HFSP (Human Frontier Science Program) award # RGP35/2007
2007 - 2009    International Rett Syndrome Foundation Research grant
2005 - 2010    NIH HD024064 Synaptic Physiology core facility grant
2005 - 2010    NIH R01 Research grant NS050655
2005 - 2010    NIH R01 Research grant NS051262
1999 - 2003    Heisenberg Stipend
1995 - 1997    Helmholtz Stipend
1993 - 1995    Howard Hughes Research Fellowship
1991 - 1992    Tartar Trust Fellowship
Academic Education
06/1995 - 12/1997   Helmholtz Fellow + senior postdoc, Workgroup Cellular Neurobiology, Max Planck Institute for Biophysical Chemistry (MPI Göttingen), Germany, Prof. Alain Marty
07/1993 - 06/1995   Howard Hughes Fellow, Molecular Neurobiology Laboratories, The Salk Institute, La Jolla, CA USA, Prof. Charles Stevens
02/1993 - 06/1993   Postdoctoral Fellow, Vollum Institute, Oregon Health Sciences University, Portland, USA, Prof. Gary Westbrook
08/1989 - 02/1993   PhD, Neuroscience and Physiology, Vollum Institute, Oregon Health Sciences University, Portland, USA, Prof. Gary Westbrook
09/1984 - 06/1989   Goethe University, Frankfurt Germany, Pharmacy Degree
University Degrees
1999   Habilitation, Physiology, Georg-August-Universität Göttingen, Prof. Diethelm Richter
1993   PhD in Physiology, Vollum Institute, Oregon Health Sciences University, Portland, OR USA, Gary Westbrook
1989   3rd Staatsexamen in Pharmacy, Goethe University Frankfurt, Germany, state-licensed pharmacist
Editorships
2014 -   Berlin Institute of Health, Coordinator of Collaborative Research Grant 'Congenital Diseases'
2013 -   Reviewing Editor, eLIFE
2012 -   Speaker of Cluster of Excellence NeuroCure
2010 -   Speaker of Collaborative Research Center 665 'Developmental Disturbances in the Nervous System'
Rost B, Schneider F, Grauel MK,Wozny C, Bentz C, Blessing A,Rosenmund T, Jentsch T, Schmitz D, Hegemann P, Rosenmund C (2015) Optogenetic acidification of synaptic vesicles and lysosomes. Nat Neurosci. 18 1845-52.
Watanabe S, Trimbuch T, Camacho-Perez M, Rost BR, Brokowski B, Sohl-Kielczynski B, Felies A, Davis MW, Rosenmund, C* and Jorgensen EM* (2014) Clathrin regenerates synaptic vesicles from endosomes. Nature 515:228-33. *corresponding authors
Watanabe S, Rost BR, Camacho-Perez M, Davis MW, Sohl-Kielczynski B, Rosenmund, C* and Jorgensen EM* (2013) Ultrafast endocytosis at mouse hippocampal synapses. Nature, 504:242-7. *corresponding authors
Arancillo M, Min SW, Gerber S, Munster-Wandowski A, Wu YJ, Herman MA, Trimbuch T, Rah JC, Ahnert-Hilger G, Riedel D, Sudhof TC and Rosenmund C (2013) Titration of Syntaxin1 in mammalian synapses reveals multiple roles in vesicle docking, priming, and release probability J Neurosci, 33:16698-714.
Weston MC, Nehring RB, Wojcik SM and Rosenmund, C (2011) Interplay between VGLUT isoforms and endophilin A1 regulates neurotransmitter release and short-term plasticity. Neuron, 69:1147-59.
Xue M, Craig TK, Xu J, Chao HT, Rizo J and Rosenmund C (2010) Binding of the complexin N terminus to the SNARE complex potentiates synaptic-vesicle fusogenicity. Nat Struct Mol Biol, 17:568-75.
Chao HT, Chen H, Samaco RC, Xue M, Chahrour M, Yoo J, Neul JL, Gong S, Lu HC, Heintz N, Ekker M, Rubenstein JL, Noebels JL, Rosenmund C* and Zoghbi HY* (2010) Dysfunction in GABA signalling mediates autism-like stereotypies and Rett syndrome phenotypes. Nature 468:263-9 *corresponding authors.
Xue M, Lin YQ, Pan H, Reim K, Deng H, Bellen HJ and Rosenmund C (2009) Tilting the balance between facilitatory and inhibitory functions of mammalian and Drosophila Complexins orchestrates synaptic vesicle exocytosis. Neuron 64:367-80.
Gerber SH, Rah JC, Min SW, Liu X, de Wit H, Dulubova I, Meyer AC, Rizo J, Arancillo M, Hammer RE, Verhage M, Rosenmund C*, Südhof TC* (2008). Conformational switch of syntaxin-1 controls synaptic vesicle fusion. Science 321:1507-1510. *corresponding authors
Chao HT, Zoghbi HY* and Rosenmund C* (2007) MeCP2 controls excitatory synaptic strength by regulating glutamatergic synapse number, Neuron 56:58-65. *corresponding authors.