Prof. Dr. Christian Freund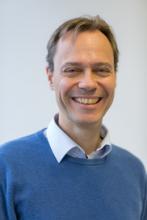 Freie Universität Berlin
Institute for Chemistry & Biochemistry
Thielallee 63
14195 Berlin
Phone: +49 (30) 838 51189
Fax: +49 (30) 838 56413
E-Mail: christian.freund@fu-berlin.de
Position and Status
Professor of Protein Biochemistry (W2)
Scholarships and awards
2009 - Joint grant recipient and winner of the "Innovationswettbewerb Medizintechnik" of the German Ministry of Education and Research
1999 - Biofuture award of the German Ministry of Education and Research
1997 - Post-doctoral scholarship by the Swiss National Funds
University training and degree
1986 - 1989 - Chemistry, Ludwig-Maximilians-Universität München
1983 - 1986 - Chemistry, Heinrich-Heine-Universität Düsseldorf
Advanced academic qualifications
2005 - Habilitation (venia legendi), Biochemistry, Freie Universität Berlin
1994 - PhD, Max-Planck-Institute of Biochemistry, AG NMR (Holak), Department of Structural Biology (Huber)
Postgraduate professional career
2018 (Jan-March) - Visiting scholar at the University of California San Francisco
2011 - present - Full professor of Biochemistry (W2), FU Berlin
2000 - 2011 -Independent research group leader, Leibniz-Institute of Molecular Pharmacology, Berlin
1997 - 2000 - Joint appointment post-doctoral fellow at Harvard Medical School/Dana- Farber-Cancer Institute in Boston with Prof. Gerhard Wagner and Prof. E. Reinherz (Scholarship by the Swiss National Funds).
1994 - 1997 - Postdoctoral fellow in the group of Prof. Dr. A. Plückthun, Biochemical Institute of the University of Zürich/Switzerland.
Coordinating functions and editorial work
Since 2019 - Coordinator (with Nevan Krogan, QBI, UC San Francisco) of the FU Berlin- UCSF Collaborative Initiative
2016 - present - Founding member and Vice-chair of the DFG Collaborative Research Centre SFB/TRR 186 (Heidelberg/Berlin) "Molecular Switches in the Spatio- Temporal Control of Cellular Signal Transmission"
2016 - present - Editorial board member at "Scientific Reports"
2010 - 2013 - Spokesman (together with Prof. Hartmut Oschkinat) of the Forschergruppe "Interfering with intracellular protein-protein interactions-probing protein functions with small molecules" (FG 806).
2008 - 2009 - Spokesman of the "Zukunftsforum" of the Dechema (Gesellschaft für Chemische Technik und Biotechnologie e. V.).
Most important publications
Freund, C. and Höfer, T. (2019) A Missing Switch in Peptide Exchange for MHC Class II Molecules. Front. Immunol. 10:2513.
Gerth F, Jäpel M, Sticht J, Kuropka B, Schmitt XJ, Driller JH, Loll B, Wahl MC, Pagel K, Haucke V, Freund C. (2019). Exon Inclusion Modulates Conformational Plasticity and Autoinhibition of the Intersectin 1 SH3A Domain. Structure, 27, 977-987
Álvaro-Benito, M., Morrison, E., Ebner, F., Abualrous, E. T., Urbicht, M., Wieczorek, M., Freund, C. (2018). Distinct editing functions of natural HLA-DM allotypes impact antigen presentation and CD4+ T cell activation. Cell Mol Immunol., doi: 10.1038/s41423-018-0181-1.
Gerth F., Jäpel, M., Pechstein, A., Kochlamazashvili, G., Lehmann, M., Puchkov, D., Onofri, F., Benfenati, F., Nikonenko, A.G., Fredrich, K., Shupliakov, O., Maritzen, T., Freund, C.*, Haucke, V.* (2017). Intersectin associates with synapsin and regulates its nanoscale localization and function. Proc. Natl. Acad. Sci. U S A. 114, 12057-12062
Henning, L. M., Santos, K.F., Sticht, J., Jehle, S., Lee, C.T., Wittwer, M., Urlaub, H., Stelzl, U., Wahl, M.C., Freund, C. (2017). A new role for FBP21 as regulator of Brr2 helicase activity. Nucleic Acids Res. 45, 7922-7937
Wieczorek, M., Sticht, J., Stolzenberg, S., Günther, S., Wehmeyer, C., El Habre, Z., Álvaro-Benito, M., Noé, F. and Freund, C. (2016). MHC class II complexes sample intermediate states along the peptide exchange pathway. Nat. Commun. 7, 13224
Morrison, E., Kuropka, B., Kliche, S., Brügger, B., Krause, E. and Freund, C. (2015). Quantitative analysis of the human T cell palmitome. Sci. Rep., 5:11598
Kuropka, B., Witte, A., Sticht, J., Waldt, N., Majkut, P., Hackenberger, C. P. R., Schraven, B., Krause, E., Kliche, S., and Freund, C. (2015). Analysis of phosphorylation-dependent protein interactions of ADAP reveals novel interaction partners required for chemokine-directed T cell migration. Mol. Cell. Proteom. 14, 2961-72
Schlundt, A., Günther, S., Sticht, J., Wieczorek, M., Roske, Y., Heinemann, U. & Freund, C. (2012). Peptide linkage to the alpha-subunit of MHCII creates a stably inverted antigen presentation complex. J. Mol. Biol., 423, 294-302
Günther S, Schlundt A, Sticht J, Roske Y, Heinemann U, Wiesmüller KH, Jung G, Falk K, Rötzschke O, and Freund C. (2010) Bidirectional binding of CLIP peptides to an MHC class II molecule, Proc. Natl. Acad. Sci. (USA) 107, 22219-22224