Prof. Dr. Michael Brunner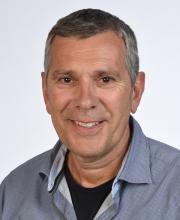 Biochemie-Zentrum der Universität Heidelberg (BZH)
Im Neuenheimer Feld 328
69120 Heidelberg
Phone: +49 (6221) 54 – 4207
Fax: +49 (6221) 54 – 4790
E-mail: michael.brunner@bzh.uni-heidelberg.de
Scholarships and awards
2012               Heidelberg Molecular Life Science Award
2004               EMBO membership
1990–1991     EMBO fellowship
1989–1990     DAAD fellowship
Academic Education
1985–1989   PhD thesis with Hermann Bujard, University of Heidelberg
1984             Diploma in Biology ("mit Auszeichnung"), University of Heidelberg
University Degrees
1998   Habilitation with Walter Neupert, Physiological Chemistry, LMU, Munich
1989   PhD "summa cum laude", University of Heidelberg
Employment
2008 - present   Full professor (W3) at Heidelberg University Biochemistry Center
2008                  Offer for full professorship at the University of Munich, declined
2000 - 2008       Full professor (C4), at Heidelberg University Biochemistry Center
1999                  Offer for full professorship at the University of Innsbruck, declined
1998 - 2000       Professor (C3, interim) LMU, Munich
1992 - 1998       Group leader, Physiological Chemistry, LMU, Munich
1989 - 1991       Postdoctoral fellow with Dr. J. E. Rothman, Princeton University and Sloan-Kettering Institute, New York
Coordinating Functions and Editorial Work
2011 - 2014      Dean of Study of Bachelor Biochemistry Program
2010 -               Deep Sequencing Facility Steering Committee
2010 - 2013      Managing Director of the BZH
2010 - 2012      EMBO Young Investigator Selection Committee
2007 -               CellNetworks Steering Committee
2006 - 2010      FEBS Advanced Course Committee
2003 - 2005      Dean of the Faculty of Biosciences





 
Cesbron F, Oehler M, Ha N, Sancar G, Brunner M. (2015) Transcriptional refractoriness is dependent on core promoter architecture. Nat Commun. 6:6753.
Lauinger L, Diernfellner ACR, Falk S and Brunner M. (2014) The RNA helicase FRH is an ATP-dependent regulator of CK1a in the circadian clock of Neurospora crassa. Nat. Commun. 5:3598.
Sancar G, Sancar C. and Brunner M. (2012) Metabolic compensation of the Neurospora clock by a glucose-dependent feedback of the circadian repressor CSP1 on the core oscillator. Genes Dev. 26:2435-2442.
Querfurth C, Diernfellner A, Gin E, Höfer T and Brunner M. (2011) Circadian conformational change of the Neurospora clock protein FREQUENCY triggered by clustered hyperphosphorylation of a basic domain. Mol Cell 43:713-722.
Malzahn E, Ciprianidis S, Kaldi K, Schafmeier T and Brunner M. (2010) Photoadaptation in Neurospora by competitive interaction of activating and inhibitory LOV domains. Cell 142:762-772.
Diernfellner A, Querfurth C, Salazar C, Höfer T and Brunner M. (2009) Phosphorylation modulates rapid nucleo-cytoplasmic shuttling and cytoplasmic accumulation of Neurospora clock protein FRQ on a circadian time scale. Genes Dev. 23:2192-2200.
Schafmeier T, Diernfellner A, Schäfer A, Dintsis O, Neiss A and Brunner M. (2008) Circadian activity and abundance rhythms of the Neurospora clock transcription factor WCC associated with rapid nucleo-cytoplasmic shuttling. Genes Dev. 22:3397-3402.
Schafmeier T, Káldi K, Diernfellner A, Mohr CA, Brunner M. (2006) Phosphorylation dependent maturation of Neurospora circadian clock protein from a nuclear repressor towards a cytoplasmic activator. Genes Dev. 20:297-306.
Diernfellner ACR, Schafmeier T, Merrow MW, Brunner M. (2005) Molecular mechanism of temperature sensing by the circadian clock of Neurospora crassa. Genes Dev. 19:1968-1973.
Schafmeier T, Haase A, Káldi K, Scholz J, Fuchs, M, Brunner M. (2005) Transcriptional feedback of Neurospora circadian clock gene by phosphorylation-dependent inactivation of its transcription factor. Cell 122:235-246.