Prof. Dr. Frauke Melchior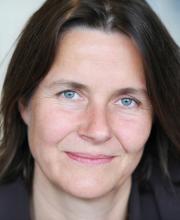 Zentrum für Molekulare Biologie der Universität Heidelberg (ZMBH)
Im Neuenheimer Feld 282
69120 Heidelberg
Phone: +49 (6221) 54-6804
Fax: +49 (6221) 54-5893
E-mail: f.melchior@zmbh.uni-heidelberg.de
Research Area
Biochemistry, Molecular Biology, Molecular Cell Biology
Position and Status
Professor for Molecular Biology (W3)
Scholarships and awards
2014   Elected member of the Deutsche Akademie der Naturforscher Leopoldina
2008   Elected EMBO Member
2005   Binder Award, German Society of Cell Biology
1999   BioFuture - Young Investigator award, BMBF
1995   Senior Postdoctoral Fellowship, American Cancer Society
1992   Postdoctoral Fellowship, German Research Foundation
1984   Undergraduate Fellowship, DAAD
Academic Education
07/1987 - 07/1990   Ph.D. thesis with Prof. Dr. Helmut Kindl, University Marburg
04/1986 - 07/1987   Diploma thesis with Prof. Dr. Helmut Kindl, University Marburg
04/1981 - 07/1987   Studies of Chemistry at the University Marburg and the University of Bristol
University Degrees
07/1990   Dr. rer. nat., Biochemistry, University of Marburg
07/1987   Diplom Chemiker, University of Marburg
Employment
2008 -            W3 Professor for Molecular Biology, ZMBH, Heidelberg University
2004 - 2008   W3 Professor for Biochemistry, Medical Faculty, University Göttingen
1998 - 2004   Group leader, Max-Planck Institute for Biochemistry, Martinsried
1992 - 1998   Postdoctoral fellow, Scripps Research Institute, La Jolla, USA, with Dr. Larry Gerace
1990 - 1992   Postdoctoral fellow, MPI Biophysical Chemistry, Göttingen, with Prof. Dr. Volker Gerke
2012 -            Member, Senate of the German Research Foundation (DFG)
2010 -            Prodean for Research, Faculty of Biosciences, Heidelberg University
2013 -            Deputy speaker, Excellence Cluster CellNetworks
2009 -            Faculty Member, Graduate school HBIGS
2012 - 2015   Advisory Board, Max Delbrück Center for Molecular Medicine
2008 - 2013   Member, Senate committee for Research Training Groups, DFG
2007 - 2010   Alexander von Humboldt Foundation, Postdoc Selection Committee
2005 - 2012   Advisory Board, Leibniz-Institute for Molecular Pharmakology
2005 - 2008   Speaker of the Collaborative Research Center SFB523 (Göttingen) Protein and Membrane transport between cellular compartments
2008              Organizer, EMBO Practical Course on Ubiquitin and SUMO (Co-organizer 2006, 2010, 2012)
Becker, J, Barysch, SV., Karaca, S, Hsiao, HH., Berriel Diaz, M, Herzig, S, Urlaub, S, Melchior, F (2013) Endogenous SUMOylation: Detection of targets in mammalian cells and tissues. Nat Struct & Mol. Biol 20:525-31.
Werner, A, Disanza, A, Reifenberger N, Habeck G, Becker, J, Calabrese, M, Urlaub, H, Lorenz, H, Schulman, B, Scita, G, Melchior, F (2013) SCFFbxw5 mediates transient degradation of actin remodeler Eps8 to allow proper migration through mitosis. Nat Cell Biol 15:179-188.
Schulz, S, Chachami, G, Kozaczkiewicz, L , Winter, U, Stankovic-Valentin, N, Haas, P, Hofmann, K, Flotho, F and Melchior, F (2013) SUMOylation - a regulatory protein modification in health and disease. Annu Rev Biochem 82:357-385.
Urlaub, H, Ovaa, H, Wittbrodt, J, Meulmeester, E, Melchior, F (2012) Ubiquitin Specific Protease Like 1 (USPL1) is a SUMO isopeptidase with essential, non-catalytic functions. EMBO Rep. 13:930- 938.
Werner, A1 , Flotho, A and Melchior, F (2012) Two functionally non-equivalent Ubc9 molecules are required for sumoylation by the RanBP2/RanGAP1*SUMO1/Ubc9 E3 ligase complex. Mol Cell 46:287-298.
Meulmeester, E, Kunze, M, Hsiaoh, HH, Urlaub, H, Melchior, F (2008) Mechanism and consequences of paralog specific sumoylation of USP25. Mol Cell 30:610-619.
Bossis, G and Melchior, F (2006) Regulation of SUMOylation by reversible oxidation of SUMO conjugating enzymes. Mol Cell 21:349-357.
Pichler, A, Gast, A, Seeler, JS, Dejean, A and Melchior, F (2002) The nucleoporin RanBP2 is a SUMO1 E3 Ligase. Cell 108:109-120.
Mahajan, R, Delphin, C, Guan, T, Gerace, L and Melchior, F (1997) A small ubiquitin related polypeptide involved in targeting RanGAP1 to nuclear pore complex protein RanBP2. Cell 88:97- 107.
Melchior, F, Paschal, B, Evans, J, and Gerace, L (1993) Inhibition of nuclear protein import by nonhydrolyzable analogues of GTP and identification of the small GTPase Ran/TC4 as an essential transport factor. J Cell Biol 123:1649-1659.