Steeve Boulant receives Heisenberg fellowship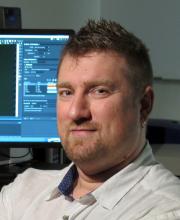 Mucosal immunologist and virologist Steeve Boulant has been awarded the prestigious Heisenberg fellowship of the DFG. He will continue his work on human gut inflammation and regulation of host/pathogen interaction in polarized epithelial cells at the University Hospital Heidelberg in the department of Infectious diseases.
Steeve Boulant was recruited by Heidelberg via the Chica and Heinz Schaller foundation (CHS foundation) in February 2012 from Harvard Medical School, USA.